Blog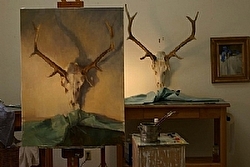 When I was in my teens, and an aspiring artist, Georgia O'Keefe was a huge influence. The photographs that Steiglitz took of her gave me a glimpse of the life and person of woman painter, something to emulate. Her skull paintings have been an influence throughout my career. Untill recently I never would have attempted to paint a skull. O 'Keefe's paintings of skulls are icons. Any painting of a skull that I might attempt would be seen as an imitation. Georgia O' Keefe owns the image .

I am at a point today where I have my own vision and style Still life painting has enabled me to create a dialogue about art and the interior that leads me in my own direction. I have a collection of elk skulls that I have been longing to paint, but the shadow of Georgia O Keefe hanging over the image has held me back.

My reasons now are my own and her influence has become a stumbling block.
I think that its time to step over and do some skull painting of my own.
Comment on or Share this Article >>